No matter what industry you are in, New York City is bound to have an annual tradeshow for it. Not that it's a bad thing, but when you are Lifestyle Blogger, almost every single tradeshow that comes to the City can apply to you. Not to mention most tradeshows are a multi-day affair and I'm lucky with my schedule if I can devote a few hours on one day to any given show, very rarely the full range of days!
Photo courtesy of Elements Showcase
The
Elements Showcase
came highly recommended but after many years of me not even being in the City when they held it, I had given up hope. Finally, this year I was able to catch the 6th edition of Elements Showcase in New York City. I went in quite focused because despite it being held over two days, I knew I could only devote a few hours to it on only one day after coming from an event in the morning. Thankfully some PR reps I know sent me with specific booths to hit, but somehow though I did manage to take in every single vendor aside from the ones I was specifically looking for!
I was under the erroneous impression that Elements Showcase was just perfume, but I am happy to report that it was SO much more!
Photo Courtesy of Lift Lab
Sarah from Lift Lab, Photo Credit: BeautyPress
I started with
Lift Lab
so I could walk the room in Vendor order and as I had not tried their products before, I was surprised to discover that there was so much science behind the skincare brand. If you don't believe me, just check out their list of
patents
(me being originally pre-med, anything that has to do with the Science behind someting still fascinates me!). The Product Developer, Melissa Green Hewitt creates fragrances and cosmetics for Anthropolgie and also has a passion for Organic Skincare!
Photo courtesy of Elements Showcase
I also met
Tay Skincare
an eco-friendly brand that is free trade, cruelty-free and vegan, and their packaging was beautiful too. Their booth had a very zen vibe, much akin to a spa! They sent us home with a sample size of their Lavendar Body Creme with Green Tea. TAY provides generous support towards planting fruit tree orchards to help combat world hunger and global warming as well as strengthen communities and improve the surrounding air, soil and water.
The Fruit Tree Planting Foundation
donates orchards where the harvest will best serve communities for generations at places such as public schools, city parks, low-income neighborhoods, international hunger relief sites and animal sanctuaries! Sounds like with TAY you can be as beautiful on the inside as you are on the outside! By the way, their business cards are gorgeous also. I wanted to scan it so you guys could see it but I didn't have time!
Juniper Ridge Marketing Team at Elements Showcase NYC, Photo Credit: Elements Showcase
For my hiking, camping and backpackers you might want to check out the brand
Juniper Ridge
, whose Trail Crew Soap, BackPacker's Cologne, Cabin Spray, and Campfire Incense's are made only with wildcrafted plants, tree sap, wood and bark found while hiking. With names like 'Cascade Glacier', 'Inyo Trail', 'Yuba River Trail', 'Siskiyou Trail', it's a scent that is evocative of specific plants, places and moments in time. If a scent could possibly capture movement this is closest to hiking being a scent that I can possibly think of! It makes perfect sense that their perfume distilleries are based in the Oakland, California woods. I'm a big Incense lover, and would love to try their White Sage Campfire Incense!
Babalu Distribution present Carner Barcelona and Humiecki & Graf at Elements Showcase NYC. Photo Credit: Beauty Press
Many folks were doing double duty and Babalu Distribution was no exception, they were representing both
Carner Barcelona
and
Humiecki & Graf
. Carner Barcelona is founded by Sara Carner who comes from a long line of Spanish Leather Artisans. They use black and white minimalism in the packaging with a silver insignia that is in honor of the XIXth century iron doors of the city of Barcelona, Spain. While Humiecki & Graf offered scents that represented emotions, the standout of the bunch for me was the scent 'Clemency' oddly it is inspired by the regal stance of a mother (I am NOT a mom so I guess I found it odd that of all the scents I was drawn to that one!), this scent has a disassembled rose note which gives it a clear metallic aspect, and a special lime tree blossom adds a warm supple touch, but don't get fooled by the flowery component, it also offers complex wood notes and leather elements softened with milk notes to give it a strong yet velvety soft scent. (It's complexity actually lends itself to a very approachable, wearable scent with a touch of mystery to it!).
Leilana Bishop Display at Elements Showcase NYC. Photo Credit: Beauty Press
I also met another 'new to me' brand called
Leilani Bishop
who produce a line of single-note fragrance oils of Lilac, Orange Blossom and Pikake. Oils are meant to be applied to 'pulse points' so you would apply them behind the ears, inside elbows, wrists, decolletage, behind knees or ankles. They suggest that you apply it from the bottom up as the fragrance will be activated from the heat of your pulse points and as it rises, it evaporates, so if only applied from the neck up, the scent will quickly rise and then just disappear. These oils are alcohol free so they may take a minute or two for the scent to fully emit and will last 2-3 hours (so you can re-apply throughout the day). And because our body chemistry's differ, oils tend to become a more signature scent that will smell differently on each person. I do sometimes wear oils, but hadn't done so in years, so it was fun to re-discover wearing roll on oils! I used to love to put them on post shower while my skin was still warm and pores open. The scents are meant to take you on Leilani's journey from Hawaii to the Mediterranean! (I don't know about you but I definitely wish I was on the beach in Hawaii right now instead of chained to my desk!)
Ego Facto Fragrances on display at Elements Showcase NYC. Photo Credit: Beauty Press
Another 'new to me' brand who exhibited at Elements Showcase in New York City was French Perfumers
Ego Facto
, who displayed their scents which included: PooPoo PiDoo (with the D backwards), Fool for Love, Me Myself and I, Prends Garde A Toi (Again the letter 'd' in the word Garde is backwards), PiEge A Filles (I left the E in caps on purpose in the first word, they also have it written backwards), SacRe Couer (I think you get the idea, but just in case the R in the first word is backwards), and lastly Jamais Le DimaNche (N is backwards on this one).
Yuthica Double Dipp Massage Candle. Photo Credit: Yuthica Website
I'm definitely a candle lover so I was excited to meet the team behind
Yuthica
. Yuthica Soy Wax Candles are all-natural, biodegradable and eco friendly with scents inspired from fresh flowers, spices from around the world and herbs and garnishes from local farmers markets. They use a proprietary soy wax and all cotton wicks, and their candles and diffusers are handmade in the USA. The Double Dipp Collection is a candle, moisturizing body lotion, hand creamer and soothing massage oil all in one, designed with a handy pour spout. It's a hand blend of jojoba butter, avocado oil, vitamin E, cocoa butter, shea butter, essential oils and 100% natural soy wax. 15 minutes after lighting the wick of the Double Dipp Candle a melt pool will form, you the extinguish the candle and pour the warm massage oil directly onto your body, the lotion will be nice and warm but only gets 2 degrees higher than your natural body temperature and it WON'T burn! I so wish I could have taken these home, but they did send us home with sample packets of body butters in a variety of delicious scents! Two of my favorite candles were from their 'Travelogue Collection', a candle called 'Barcelona' (not to be confused with the scents from Carner featured above), with notes of white tea, thyme and lemon and 'Maasai Mara' a heady sandalwood musk that is very reminiscent of some of my favorite incense!
Center: Gin Fizz, Right: Black Jade fragrances on display at Elements Showcase NYC, Photo Credit: Elements Showcase
Lubin Paris
displayed a wide variety of scents, but two were my absolute standouts, called 'Gin Fizz' and the other 'Black Jade'. Black Jade from The Queen's Secret Garden belonged to a queen in the trianon rose gardens, Calbanum, Bergamot, and Cardamom are the 'fresh' notes, which leads to the rose and jasmin heart notes, a hint of incense and cinnamon, in an amber base anchored in exotic woods including Indian Sandlewood & Patchouli with Vanilla and Tonka Bean. Apparently I'm attracted to strong, complex fragrances, but this one, much like some of the others I found myself drawn to is balanced, not totally subtle; complex yet very approachable. A bit more sultry than some of the others, it stood out in my mind! (And after spending a day smelling scents on two floors that really is saying a lot!). As I'm also a 'white musk' girl, it was no surprise that my nose also liked 'Gin Fizz' by Lubin, the perfume was designed as a tribute to Grace Kelly in the year she won the Oscar for her role in 'The Country Girl', the name is inspired by the cocktail that was in fashion at the time. The Top Notes: Bergamot, Sicilian Lemon, Messina Mandarin and Juniper Berry. Middle Notes: Iris, Galbanum, Orange Blossom, Rose Absolute, and Turkish Jasmin. Base Notes: Swamp Lily, Benzoin, Iris from Florence, Vetiver Grass, Oak Moss, and White Musk.
Gemstone Facial by Sjal Skincare (Rose Quartz is being used here), Photo Credit: Sjal Skincare
Have you ever had a Gemstone Facial? I for one haven't but I would certainly love to experience one! I didn't see it, but
Sjal Skincare
was giving Gemstone Facials during Elements New York City, and as I'm a true believer in the power of gemstones (as you know we have featured TONS of gemstone jewelry designers on Ascending Butterfly), I love the concept behind this line and I am so bummed I didn't get a facial! SJAL is Swedish for for Spirit, Mind, Heart & Soul and they are a luxury skincare line that merges both a holistic approach with scientific advances, bringing ancient eastern medicines with the latest in western biotechnology, infused with bio-osmotic energy through precious minerals and gemstones. And you all know how much I love my Mama Butterfly and I love the fact that the founders are a Mother and Daughter team, Karen and Kristin Petrovich! I also found it interesting that the team studied degenerative aging diseases such as Diabetes, AIDS and Cancer Research in their efforts to seek out progressive ideas for healing, repair and anti-aging.
Parfums Valjean Scents and Bath Oils on display at Elements Showcase NYC, Photo Credit: Beauty Press
Their website is currently under construction, but I met Valjean Corporation who gave us samples of their Refreshing Bath Oil (Bergamot, Rosemary, Wheat Germ Oil) the sample vial resembled a long beaker of sorts from science class, just skinny, and the colors of the this bath oil is Light Blue, Cyan & Teal), their Relaxing Bath Oil (Lavendar, Chamomile, Avocado Oil) of course had a Lavendar to Purple to Blue Hue) and the Sensual Bath Oil (Rose, Jasmine, Jojoba Oil) had an Orange to Red to Yellow Hue. I love that each vial had the gradation in color, I thought that was super unique, I haven't tried these out yet (let's just say super fast showers and no time to soak lately!), but I will report back once I do!
Joya Studio products on display during Elements Showcase in NYC, Photo Credit: Cover Mag
Packaging is something that really does stand out especially when the nose starts to show signs of 'everything smells the same syndrome', and
Joya Studio
offered up their display with beautiful porcelain containers that housed their soaps and candles. And of course some extra love because they are made right here in my hometown New York City!
MCMC Fragrance Vials, Photo Credit: Pacific Weddings Magazine
MCMC Fragrances
displayed their 'The Stories Collection' and my two standouts from the collection was 'Kept' with notes of Red Roses, Black Tea, Leather, and Clove (butterflies this show definitely proved what I already know, I LOVE the smell of Leather! OK stop giggling and no 50 Shades references please as I have not yet read it), and 'Hunter' with notes of Organic Bourbon, Vanilla, Tobacco Absolute, and Balsam Fir. What you can't see is that the box that houses the sample has a story for each one on it, the story for 'Kept" reads:
"Kept is an ode to oneself. Turning the notion of a kept woman on its head, the fragrance encourages women to look to themselves to evoke love. Inspired by this truth, I got a tattoo of an antique key on one of my hands."
"Hunter" reads:
"When I was younger I had a friend I liked to call Hunter. Years later, memories of our long friendship and his adventures building maple sugar cabins in Vermont inspired this fragrance. Best born with a flannel shirt."
Scent always tend to invoke a feeling and a memory so "The Stories Collection' is very much what we think of when we think of a scent, a feeling, a moment in time, or a person.
From Left to Right: Far Left: Ulrich Lang, Frederick Bouchardy (Joya), Artist Cogy Esparza, and far right: Jeff Lawson, Founding Member at Elements Showcase NYC Rooftop Party, Photo Credit: Elements Showcase
Established in 2002,
Ulrich Lang New York
melds two of Ulrich's passions: contemporary photography and fine fragrance. Contemporary photography is the inspiration behind the company's scent and conceptual development. My two standouts were: "Nightscape" this scent is described as sensual, mysterious and long lasting and contains Top Notes of: Bergamot, "green" accord, Heart Notes of: Jasmine, Geranium, and Cedarwood and Base Notes of: soft leather notes, musk, amber, tonka bean and patchouli. (Super scary on how on my nose zooms in on these notes!). My second choice was "Anvers" a fusion of fresh aromatics and provocative spices, classic florals with modern leather notes, bracing woods and warm ambers!
Clemence and Valentine (Founder) of Pozzo di Borgo whose fragrances are on display at Elements Showcase NYC, Photo Credit: Beauty Press
Pozzo di Borgo Paris
featured their scents "8 mars 1764" inspired by the journey of Carl Andrea Pozzo di Borgo, the Corsican Maquis at the Court of Tsar Alexander 1st who was born on March 8th, 1764. Warm notes of Russian Leather, Cognac, woody notes and coffee essence. I don't know any better way to put this, so I'll just say it, THIS is what a sexy man smells like! It's powerful, eloquent and persuasive and takes you over without you realizing it. With the 'male' scent being so incredible, the female counterpart fragrance needed to be equally dynamic and "23 janvier 1984" is. This intimate, light fragrance combines white and powdery notes of Iris and blend them with the freshness of Fig, the sensuality of Musk and the spice of cardamom. Their sample vials were housed together in an understated but elegant packaging and I have to say my butterflies, they are one to watch and I'm glad to put them on your radar!
Selection of Rouge Bunny Rouge Cosmetics, Photo Credit: Rouge Bunny Rouge
Rouge Bunny Rouge
had me at their business card which has a cute butterfly on the front! Offering Make-Up, Skincare and Fragrances, they were definitely a one-stop shop! We were sent home with a lovely signature black gift bag with their Rouge Bunny Rouge logo on the front, and the lining of the bag had the same print as the front of their business cards so it is literally lined with a butterfly print on the inside, and that made me super happy! Inside the bag was their Fire Drops Loose Glitter Pigment in the color "
049 - Caress of Mink
", included in the bag were also vials of their scents from their "Fragrant Confections Collections", Vapours of Captured Memories:
Incantation
(which enchants you with top notes of Accord, Blackcurrants, Fig Leaf, Green Tea with a heart of notes including: Rose, Orange Blossom, Coriander, Cardamom and a Base of Vetiver, Cedarwood, Beeswax and Musk),
Chatoyant
(a flirtatious scent with a top of Bergamot & Lemon, heart notes of Orchid (one of my personal faves), Jasmine, Rose, Lily of the Valley and a base of Sandalwood, Cedarwood, Musk and Vanilla,
Lilt
(Ethereal and Jubilant with Top Notes of Green Leaf Accord & Fig Leaf, a heart of Peach, Coconut and Violet and a Base of Vetiver and Musk, and last but not least there is Vespers, (and while Catholics of course associate the word with the sunset evening prayer service), this wisp of a scent certainly offers a confident allure with top notes of Bergamot, Cinnamon Bark, Violet Leaves, and Black Pepper and Heart Notes of Green Apple, Muguet, Rose and Violet with a Base of Cedarwood, Musk, Sandalwood, and Vanilla. I am super grateful Elements put them on my radar, and I hope you feel the same way!
Representatives for Atelier de Geste at the rooftop party during Elements Showcase NYC, Photo Credit: Elements Showcase
Atelier de Geste
is another exhibitor with a unique backstory, they are a company that blends art, design and performance. Inspired by Coco Chanel who chose to debut a scent of hers with Les Ballets Russes, a scent introduced in the theater, became the inspiration for Blood/Sweat/Tears an androgynous scent with notes of tea, tobacco, wood, jasmine, ancient fruit and subtle top notes, expressive woody textures, part pungent, part sweet (very much like the blood, sweat and tears we pour into our passions!). The second, "The Good Earth" (also an androgynous scent), Uplifting green, resinous and strong with the lushness of a forest in early summer with notes of Moss oils, Galbanum, Opoponax (sweet/bisabol Myrrh) and rare and precious resins. The third was Wild is the Wind, (again an androgynous scent) with base notes of leather and spirits. I preferred the second and third to the first for some reason.
Kathryn Jaynes, Marketing and Sales Manager for Beauty So Clean displays products at Elements Showcase NYC, Photo Credit: Beauty Press
Did you know that dirty makeup can contribute to infections, allergic reactions and acne? It's not just your makeup brushes that require cleaning, your makeup does too and that's where
Beauty so Clean
comes in, like a hand sanitizer for your makeup, they are the world's first makeup sanitizer. Even if only YOU use your makeup it still gathers bacteria from the oil on our skin, our fingers (especially makeup you are applying with your fingers), or coughing or sneezing during makeup application. The 1,2,3 punch of the Cosmetic Sanitizer Mist, Cosmetic Sanitizer Wipes and Conditioning Brush Cleanser, will keep BOTH your makeup and your brushes, germ, oil, dust, dirt, and bacteria free. SCORE! This can definitely help you extend your makeup 's shelf life and give you peace of mind especially during the advent of the cold and flu season! The feather duster caught everyone's eye, but their gift bag was in fact the most unique, a black plastic paint can looking container that housed their system of products. And for my friends who bring along their makeup when they travel the wipes are perfect to take with you on your travels and keep your makeup clean while you are on the go! We touch a lot of 'public' spaces along the way especially getting through TSA and on the plane, so those wipes are definitely coming with me on my next trip! I was already cleaning my brushes but will admit never gave much thought to the makeup.
Jamie from Memoire Liquide displays products at Elements Showcase NYC, Photo Credit: Beauty Press
One of the most memorable exhibitors was
Memoire Liquide
a fragrance line of Bespoke and Reserve Perfumery. Made of pure perfume essences and essential oils, they demystify the art of perfumery by taking the customer on a step by step journey to create their own unique scents. With more than 150 note offerings, you can blend a hand-selected fragrance in store through an individual consultation, or pre-blended pure essences hand-picked by the company's expert perfumers are also available in the Reserve lineup. I custom blend my own signature red lip, and often do the same with my scents, I layer various ones for an ultimate result that is very much me, and this was much like being a kid in a candy store for me, a GIANT perfume candy store! I was also amazed how personal the experience really turned out considering there were a ton of people yet I did not feel rushed, hurried or harried in any way, my signature scent was a mix of white musk, warm notes like amber, and a touch of vanilla and a few more, but I won't tell you, it's MINE all mine I tell you! I also got to take home vials from the Reserve Edition including: "Soleil Liquide" (with Fresh Grapefruit, Tangerine, Blood Orange, Neroli Flowers, Santal and White Musk), "Encens Liquide" (with soft Amber Resin, White Musk, Black Tea, and Hinoki Incense, LOVE this one!), "Amour Liquide" (with Pure Madagascar Vanilla, Tonka Bean and Incense - it's a beautiful scent post shower!), "Vacances Liquide" (with Tiare Flower, Fresh Coconut Milk, Tahitian Vanilla, and Oceanic Accords - this one is your summer night in the tropics memory triggers that's for sure!). "Fleur Liquide" (with Orange Blossom, fresh Mimosa, and night blooming Jasmine - they describe it as 'the memory of dew soaked flowers at dawn just before sunset, and I have to admit I like that description!). I would have regretted it forever if I passed this exhibitor by, it was well worth the small wait! These are the type of scents you wear and invariably someone will ask you what you are wearing, and always in the good way. Memoire Liquide Reserve Edition is a collection of five ready to wear eau de parfums that are exclusively sold at spalook, Nordstrom, Murale, Beautyhabit, SkinStore and Parfum1.
Canvas and Concrete, a Fragrance Primer displayed at Elements Showcase NYC, Photo Credit: Beauty Press
Just like Beauty so Clean taught me about the importance of Sanitizing your actual makeup in addition to the brushes, I learned that there is actually 'perfume primer' on the market. I know right!
Canvas and Concrete
makes a Fragrance Primer, a natural, scent free base that helps your fragrance to stay true and last as long as you can! (and any butterflies who already knew about this get brownie points today because I was pretty surprised to discover there was a primer for fragrance). It's pretty simple, just spray the primer where you normally apply your fragrance, then spray your desired scent and it will last from day to night. Re-applying your favorite fragrance can get costly, and since body chemistry does tend to change a scent, the Canvas and Concrete primer helping your favorite scent to smell exactly like it does in the bottle and last longer is a total bonus!
Victoria England displays Tulip Perfume Bath and Body products at Elements Showcase NYC, Photo Credit: Beauty Press
Tulip Perfume
created by Victoria England is based on upon a firm belief in the holistic approach to thinking and living, her hand-crafted line of Bath and Body products encourage a strong connection with nature as a vital part of life.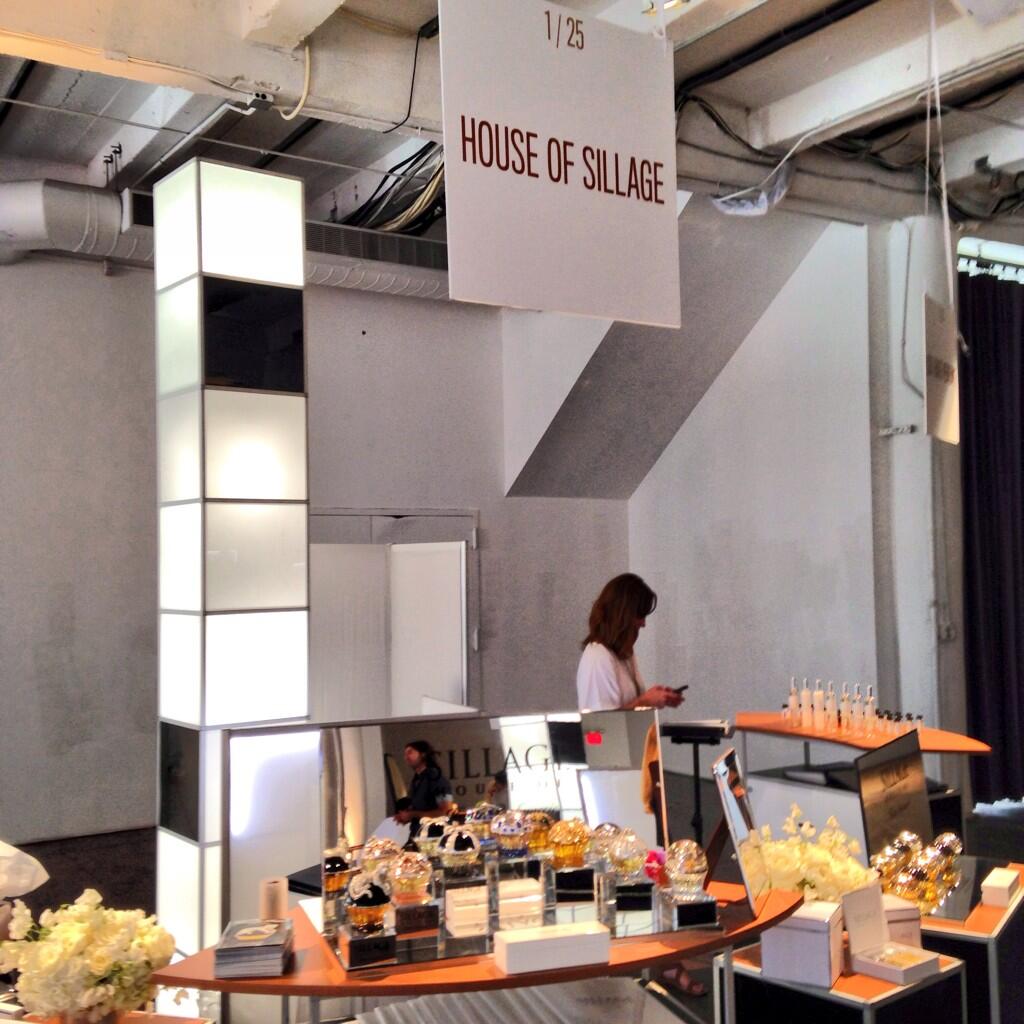 House of Sillage on display during Elements Showcase in New York City. Photo Credit: House of Sillage
In terms of both scent, bottle and packaging that truly knocks everyone out of the water, it's
House of Sillage
whose bottles are works of art unto themselves. We know I'm a bit butterfly bias, but the bottle I fell most in love with, actually turned out to be among my top 2 picks for the line, the scent contained within the rose gold topped butterfly bottle was called 'Cherry Garden', it's actually not as light you may know most 'cherry blossomeque' scents to be, there is a bit of sexy in there, and the bottle is my show favorite. My second pick was everyone's first, the snow globe topped bottle. (I mean if you are looking for a gift to knock her socks off this holiday season, this my friends is IT!), While the snow globbed topped stunner did have a wonderful scent, Cherry Garden still wins for me hands down. The trial vials of each scent came in a beautiful box with all six scents which was wrapped in tissue paper and in a lovely gift bag. The scents enclosed included: Cherry Garden, (my personal favorite), Tiara, Love is in the Air, Nouez Moi, Emerald Reign and Benevolence. I have a L'Occitane Cherry Blossoms perfume and hand cream that I have always liked, but House of Sillage's Cherry Garden just might make a perfume cheater out of me! My dearest butterflies this is very much a 'Haute Parfumerie' company, but if all my years of being a Beauty Editor has taught me anything, it's much like the famous commercial says, "I'm worth it". Some things are just worth the expense for how happy they make you feel. Honestly the photo above doesn't do the bottles justice. Hopefully they send me that butterfly bottle just so I can take a better picture of it, yeah that's the ticket! :-)
Alex, Founder of Smith & Chang displays products during Elements Showcase in New York City. Photo Credit: Beauty Press
If like me 'surrounding your life with beauty & authenticity' sounds like the way to go, then you will love
Smith & Chang
, inspired by general stores once found in small towns across America, Smith & Chang General Goods is a department store of sorts with an eco twist and vintage vibe. They offer quality goods, (without the air pretension), that are produced locally using only high quality materials. In a brown paper bag with their logo I left with a little bundle of love that included bath salts from their Patria Collection, Alex definitely made me smile and his commitment and passion to producing local really does shine through!
Lalique Pour Homme Limited Edition 2009 Scent - Buddha
The Fragrance Group
founded as the exclusive US distributor for a select group of prestige specialty fragrances including Lalique Parfums, Bentley Fragrances, Parfums de Marly, Tiziana Terenzi, and are also developing Designer Christian Siriano's first fragrance that is due out early 2014 displayed a bottle at their booth that knocked my socks off, it was a Lalique pour homme bottle with a beautiful Buddha on it! You know I collect Buddha stuff and this one stopped me in my tracks it's a 2009 limited edition Mens Cologne, and it almost made me miss the Lalique Butterfly as I got so distracted by this bottle. I have to admit I appreciate the double layers of meaning this bottle has for me, Ascending Butterfly has always been about Beauty starting from within so it can reflect on the outside, and taking time in Meditation is one of my favorite practices! Much like with House of Sillage and Smith & Chang, I definitely left this exhibitor smiling. Although I wish I could have also left with this bottle to add to my collection!
K/ller Collection Brass Engraved Nail Shield Sets, for sale at Barneys New York
Former furniture designers, turned Jewelry Designers, turned 'Nail Shield' Designers definitely attracted attention with their Brass Engraved Nail Shield Sets that they exhibited at Elements Showcase in New York City. They are now available in Barneys New York.
K/ller Collection
is the fusion of designers Katie DeGuzman and Michael Miller who met in 2000 while both attending Parsons School of Design in New York City. There is just something so 'New York' about these and I mean that in the best way possible, this is the New York Woman in a nutshell, she may appear tough as brass on the outside, but she is truly unique and beautiful on the inside. I would love to see these engraved with butterflies!
And in keeping with the 'Nails' theme, I stopped to take time to do something I haven't done nearly enough this summer, get a manicure!
Ten over Ten
- Nail Salon and Event Space in New York City was on hand to provide Mani's using their own line of Nail Polish. They currently have two very swanky locations, one is in midtown underground at Le Parker Meridien hotel and the other is in Tribeca on the second floor of a landmark building. I fell in love with the colors Maiden and Wall Street which launch in September and of their red's my favorite was called Carmine a very 'hollywood red'.I am in LOVE with this color! I am always in such a rush, and it was nice to just make everything stop for a few and enjoy a little pampering!
Alpha, Omega and Id from Mendittorosa
Mendittorosa presented their scents Alfa ('female' scent with a saffron heart), Omega (it's soul is Iris) and Id (an androgynous scent, from the black stones of Iddu, the sacred Stromboli mountain), and that is honestly about all I can say because I didn't get to take anything home from them and don't remember which was my favorite.
Amouage on display at Elements Showcase NYC, Photo Credit: Elements Showcase
Europarfum
was presenting a few of their brands as well and as you can see the packaging is certainly eye-catching!
Jewelry Designer Jules Kim wearing a piece that was designed exclusively for the movie Girl With A Dragon Tattoo at Elments Showcase in NYC. Photo Credit: Cover Mag
Jules Kim, jewelry designer, presented her creations, I'd say they are are a perfect hybrid of subway protection for ladies and can be as functional as they are fashionable! Does it get better than combining your beauty and baubles under one roof?
Bliss Lau displays their modern design jewelry at Elements Showcase NYC, Photo Credit: Elements Showcase
Another Jewelry brand represented at Elements Showcase in New York City was
Bliss Lau
. One of my favorite standout pieces is their Fathom Ring and their Contour Vest.
Tola Perfumery displays their collection of fragrances at Elements Showcase in New York City, Photo Credit: Elements Showcase
Butterflies one of the brands I can provide the least information for was very much a standout for me and I'll reach out to them and try my best to keep in touch with them and get more information, since their site is under construction and I have nowhere to point you all to at this time.
Tola Perfumery
(remember this site is currently under construction) has a beautiful backstory, Afra Bin Dhaher the founder was introduced to perfumery by his mother who practiced the art of mixing perfume oils and creating bukhoor (perfumed agarwood for incense) in a tradition that is passed down through the generations and is deeply embedded within the Arabian culture. I was able to smell each of the scents and can tell you I truly loved them all, there was no scent that didn't hit the mark for me, and that my lovelies is quite rare! Regrettably I did not get any samples of these, but I had kept my scent strips and stashed them in all my lingerie drawers and closets the moment I stepped through the door, and the scents are still going strong. As I use incense pretty much daily in my meditation practices I was very much drawn in by this line, it immediately invoked something wonderful within me which is the sense of peace and inner calm and stillness that meditation provides. To me, incense is very much like a perfumed prayer to the heavens. In fact with my growing collection of Buddha's and my love of incense and meditation, many ask if I'm Buddhist, I'm not, but I find something so soothing about its practice, and this line of perfume does just that for me, it invoked my inner happy place, and that is certainly worth adding to my collection and to your radar!
Antidote Chocolate on display at Elements Showcase NYC, Photo Credit: Cover Mag
Palais des Thes
was also at Elements Showcase New York, which you may remember I met at Beauty Press Spotlight in January of this year at the Beauty Press Spotlight Day.
Antidote Chocolate
was also at Elements Showcase and I had also met them at Beauty Press Spotlight earlier this year! With flavors like Coffee + Cardamom (which contains Ecuadorian Arabica Coffee and Cardamom), Ginger + Goldenberry (tangy citrus flavor), Rose Salt + Lemon (andean mountain rose salt), Banana + Cayenne (medium heat with sweet, flavorful Ecuadorian Bananas) and last but not least Almond + Fennel (one of my faves!) you can't go wrong with 77% organic cacao.
Temptu system in action at Elements Showcase NYC, Photo Credit: Elements Showcase
Temptu
was also at Elements (I reached out to them ages ago to work with us here at Ascending Butterfly, but never heard back), I finally got to see how it works up close and personal, as I let them apply blush on me, I would have done Foundation but I already had some on so I figured it may not give me an accurate match that way so I opted for something safer.
Luxess displays Dita Von Teese Fragrances, as well as Batman Begins: The New Dark which is set to launch in 2014 Photo Credit: Beauty Press
A blogger never forgets her first celebrity Twitter Follower, and one of the very first celebs to follow me on twitter was actually
Dita Von Teese
. Which I found totally awesome because Dita rocks! I was very happy to find her team at Elements Showcase and everyone should take their example, we left with actual full size bottles of the self named scent 'Dita Von Teese', as well as 'Fleur Teese' and 'Rouge' by Dita Von Teese. I need to remind fragrance brands that once that vial comes off it's 'romance card' backing it's hard to remember which it is, not all of them are always labelled, and let's face it, sometimes that small lettering can get difficult to read! Full sizes let you live with it, and are way easier to remember and read! (Just saying). But no surprise Ms. Dita would be such a true class act. Her fragrances are sultry and sexy, flirty and fun and the bottles of course are vanity worthy! I can't wait to try 'Erotique' which debuts this fall.
And my total 'poo you' award goes to Bond No.9 for serving me up nothing but snooty 'Department Store Shade' as they couldn't seem to be bothered talking to me, that's the same shade I'm dishing back! Sorry Elements, love you guys, but you can leave them out next time as far as I'm concerned.
Skylight Manhattan, Rooftop Party for Elements Showcase NYC, Photo Credit: Tracy Iglesias, Ascending Butterfly
My Take:
The rooftop party at Skylight couldn't have been a better ending to the show, it was so magical in fact it actually came with it's own rainbow! Does it get cooler than that? Well maybe it does because it was Oysters on demand provided by the wonderful folks at the
Leadbelly
Oysters & Liquor in New York who served up fresh and tasty Oysters shucked on demand. I love all things rawbar and Elements New York delivered with rawbar and tequila at the fab rooftop party, and an event which showcased wonderful beauty, skincare, cosmetics, fragrance, jewelry and more, while it was a super long day 'at the office' that day, days like this feel so much more like play than work that it totally makes the hours that went into this recap worth it! Some days being a Lifestyle Blogger is too fun for words, this was definitely a 'fun to be me' kind of day!
Which brand are you most looking forward to trying out?
˙·٠•●
♥
Ƹ̵̡Ӝ̵̨̄Ʒ
♥
●•●•٠·˙˙·٠•●
♥
Ƹ̵̡Ӝ̵̨̄Ʒ
♥
●•●•٠·˙˙·٠•●
♥
Ƹ̵̡Ӝ̵̨̄Ʒ
♥
●•●•٠·˙
FTC Disclosure: This is NOT a compensated post, this is NOT a Sponsored Post, no monetary compensation has been received to share my recap coverage of this two day tradeshow. As a member of the Digital Press I had VIP Access to the show. There was no official swagbag but samples were provided individually by some brands and only influenced my writing in so much as relaying how the fragrances smelled!