Ad: This is a Sponsored Post on behalf of unpakt, all opinions are 100% my own:
Sadly dear butterflies, Mr. Rogers isn't always right; It's not always a beautiful day in the neighborhood. My neighborhood especially. Loud Music Blaring All Day AND All Night. Tons of nefarious goings on that the both the landlord and super turn a blind eye to, what's a butterfly to do?
With May being National Moving Month, and me being ready for change on so many levels, a Move sounds like a great idea to me! There is very little in my neighborhood that I'll miss quite frankly. If you share my sentiments about being ready for a change of scenery this year and a move is on your agenda, I've got you covered with ideas to get you ready for moving day!
TIMING - Spring or late Fall are the best times to move. If possible, avoid the first, last and middle of the month when planning your move.
BOOKING: Moving in the summer? Book at least a month in advance! If you are moving in Spring, Fall or Winter you can book two weeks in advance. Don't forget to consider the weather for your area!
ORGANIZING YOUR MOVE - You need a system, try color coordinating with a designated colored sticker for each box that is based on the room the box should end up in, this way the movers will know where to put everything when you arrive, and you can spend less time directing traffic. Or if that sounds like too much work, you can still try out the color system by assigning each family member a color to keep their belongings organized during the move.
PACK A BOX OF 'MUST HAVES' - This is by far my favorite idea: Pack a box of 'must-haves' that includes items such as a change of clothes, toothbrushes, toiletries, so you won't have to search through all the boxes for these things after a long day of moving. Invariably you won't un-pack everything that first day, but this box will have all the major items you need so you don't have to worry if you decide to stop early and just get some rest!
THINK 'LIKE' - If you keep like items together, it will alleviate time when un-packing.
KEEP 'MUST SECURES' HANDY
- Just like you pack a box of must have essentials, you should also consider packing important paperwork and jewelry in a box that stays with YOU at all times!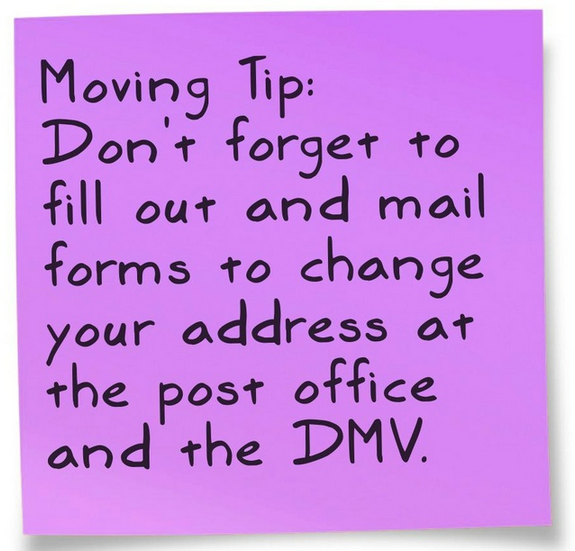 Save Money on your Move:
DECLUTTER - Before you move, as you are packing, be firm about not bringing anything along you don't really need. (By the way a great rule of thumb is this, if the item you are about to pack up and bring with you hasn't been used in 3 months, chances are you can toss it and not pack it!).
DO YOUR HOMEWORK - An ounce of prevention is always worth a pound of cure my friends! Read Reviews because bad movers will end up costing you more in the long run.
INSURANCE - Take out insurance to protect valuables you cannot afford to replace.
BUDGET - Prepare a budget in advance so you can keep expenses low.
TAX BREAKS - Remember if your move is job-related, you may be able to deduct your moving expenses depending upon how you itemize deductions, check with your accountant/tax professional when filing.
LUGGAGE - In addition to using recycled boxes or renting plastic bins, you can also use existing luggage, use the luggage to move items that you want to remember to have handy so you don't have to search through the boxes or bins.
Tips for Moving With Children:
ONE BOX - Try to pack up child's favorite belongings in one box, and if they have lugguage use their luggage for this purpose, this way you don't spend tons of time sorting through different boxes to find a favorite stuffed animal or pillow.
STICKERS - Let kids decorate their own boxes using fun stickers (if you use something like animal stickers and assign each child a specific animal it will make it easier to sort through when you arrive)
PLAY DATE - If at all possible set up a play date so the kids are away from the moving site, this way you can focus on the move, and the kids won't be under foot of you or the movers. And it also avoids the risk of them getting hurt while furniture and heavy objects are being moved.
UNPACK THEM FIRST
- It's easier to un-pack your child's room first and then work on common rooms, this way the move doesn't throw off bed schedules.
About Unpakt:
Ƹ̵̡Ӝ̵
̨̄
Ʒ
- First web app/digital marketplace/price comparison site for moving services!
Ƹ̵̡Ӝ̵
̨̄
Ʒ
- Helps you find reputable moving companies, compare exact prices, read user reviews and book online instantly!
Ƹ̵̡Ӝ̵
̨̄
Ʒ
- Streamlines the entire 'booking a mover' process to UNDER an hour!
Ƹ̵̡Ӝ̵
̨̄
Ʒ
- Named one of The Next Web's Top 10 Apps for Home & Work!
Ƹ̵̡Ӝ̵
̨̄
Ʒ
- Featured in The NY Times, Forbes, TechCrunch, The Huffington Post, Real Simple and more!
Ƹ̵̡Ӝ̵
̨̄
Ʒ
- Available Coast to Coast!

How it Works:
Ƹ̵̡Ӝ̵
̨̄
Ʒ
-
Enter Move Basics
(where/when/what you are moving)
Ƹ̵̡Ӝ̵
̨̄
Ʒ
-
Compare Moving Companies
with exact prices, read user reviews and more. You can also save your move plan for later and make changes at any time. Perfect if you want to do preliminary research and then check in with your spouse at a different time.
Ƹ̵̡Ӝ̵
̨̄
Ʒ
-
Book
mover at a guaranteed price. Price will not change unless you change inventory or conditions such as distance, stairs, etc.
NAB A DEAL ON YOUR NEXT MOVE:

Not only was Unpakt nice enough to share these great tips, they are also offering a sweet deal to Ascending Butterfly readers! Receive 5% instant cash back on your next move! Enter promo code:

BUTTERFLY

on

Unpakt.com

when booking and save. Must book by 07/31/13. Get Social

:

Ƹ̵̡Ӝ̵

̨̄

Ʒ

- 'Like' Unpakt on

Facebook

Ƹ̵̡Ӝ̵

̨̄

Ʒ

- Follow

@Unpakt

on twitter and tweet them using Hashtags #moving, #movingday, #startup

**Always remember when getting social to tell them you saw them featured on Ascending Butterfly**

So Butterfly, When is YOUR next move?
˙·٠•●

♥

Ƹ̵̡Ӝ̵̨̄Ʒ

♥

●•●•٠·˙˙·٠•●

♥

Ƹ̵̡Ӝ̵̨̄Ʒ

♥

●•●•٠·˙˙·٠•●

♥

Ƹ̵̡Ӝ̵̨̄Ʒ

♥

●•●•٠·˙
FTC Disclosure: This is a Sponsored Post on behalf of Unpakt.com, however all opinions shared are 100% my own. By the way, my neighborhood truly does suck!